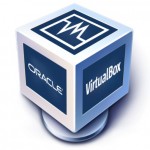 For the moment Microsoft provides us with with demo-VPC's for Windows Server Hyper-V. In this post I will describe step-by-step how you can run the same vhd with VirtualBox on your Windows Client.
Before you begin:
Make sure that Hardware Virtualization is enabled on your machine. To check if this setting you can Hardware-Assisted Virtualization Detection Tool from Microsoft.
Install the latest version of Oracle VirtualBox:
Download the Microsoft Ax 2012 Hyper-V:
Create a new Virtual Machine based on the Hyper-V VHD
Enter the name of your Virtual Machine and Select 'Windows Server 2008 (64 bit)' as the version

Untick the 'Boot Hard Disk' checkbox. We will add the Virtual Hard Disk manually when the wizard is finished.

Finish the wizard
Click on Settings

Navigate to the Storage section

Add a hard disk and choose 'Existing Hard Disk'

Navigate to the Network section

For the first Adapter select 'Internal Network'

For the second Adapter select 'Bridged Adapter' (only if you need internet access in your Virtual Machine)

After you have finished these steps the settings will look like this

Now you should have a fully functional Demo-VPC with Microsoft Dynamics Ax 2012 🙂
Have Fun!
Possible issue: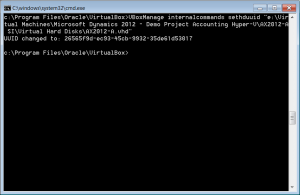 When you add 2 Demo VHD's you could get an error concerning the uuid of the VHD file. You can easily change the uuid withe the following command:
VBoxManage internalcommands sethduuid "[PATH TO THE VHD FILE]AX2012-A.vhd"