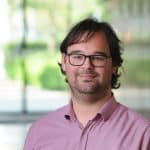 Jeroen Doens, born on the 8th October 1984 in Bruges is a former student Multimedia and Communication Technology (MCT) at the Technical University of West-Flanders (HOWEST) in Kortrijk and graduated in 2007. He got married in july 2010 and currently lives with his wife Joke and 2 daughters Line & Nel in Geel after several stops across Belgium.
For the moment he is working as a Microsoft Dynamics 365 for Finance and Operations Technical Consultant, but started in 2007 just after the release of Microsoft Dynamics Ax 4.0 as a developer. Since then Jeroen provided technical trainings, code audits, plannen technical architecture, performed performance analyses, … In more recent projects Jeroen had the role of lead technical consultant.

When Jeroen is not at work he enjoys spending time with his family, watch a movie, play with the home automation system (Loxone) or playing board games with friends. His favorite dishes are 'mussels with fries' or a good BBQ friends and family.
You can contact Jeroen via the LinkedIn.