January 31, 2011
1 comment
While surfing the web, I came across a blog from 2 friends (Youri De Brabandere and Christof Decraene) about Enterprise Portal development. For the moment they have only a few posts, but I'm sure their will be more soon.
Have fun with the http://www.axepclipboard.com.
September 9, 2010
No comment
Ilearned something new from my colleague Koen Van Hauwenhuyse. He showed me 2 extra querystring parameters you can add tot the portal URL so the content will be shown different.
The normal Url of the page: http://***/TSTReplacement.aspx?WCMP=TST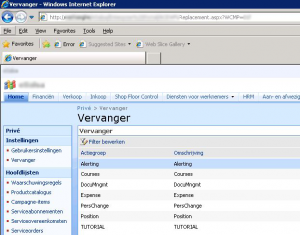 The Url for the rolecenter-view of the same page: http://***/TSTReplacement.aspx?WCMP=TST&RUNONCLIENT=1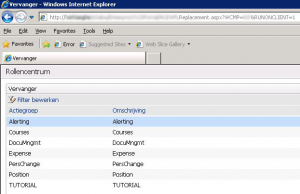 The Url for the same page without any navigation: http://***/TSTReplacement.aspx?WCMP=TST&NONAV=1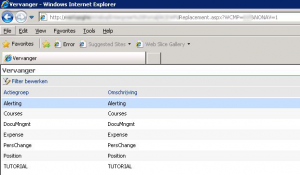 June 25, 2010
No comment
While I was checking my previous Enterprise Portal titlebar issue, me and my colleagues found a second bug. When you use a single quote (') in the PageTitle, the name of the Page Defenition object is displayed instead of the actual label with the singel quote. We couldn't find a solution yet, but we're still looking.
Anyone any idea?
June 21, 2010
2 comments
When you modify the PageTitle property of a new Page Definition to a label with a 'special' character in it. You will see that the title is not rendered well. For example when you use a é it will be rendered as &#233. I logged this case with Microsoft and for the moment there is no fix for this issue, but they suggested a simple workaround.
Workaround:
When you edit your page in Sharepoint, you can remove the 'Dynamics Page Title Web Part' and replace it by the old 'Page Title Web Part'
Explanation:
The reason why there are two Web Parts is mainly the "Page Title Web Part" is the old Web Framework (Dynamics AX 4.0) – and rendering takes part in X++ code while "Dynamics Page Title Web Part" is implemented completely in C#.
(Source: Microsoft)
June 18, 2010
1 comment
Have you ever experienced the following symptoms in the Enterprise Portal:
click on a date picker (the date picker is shown)
click outside the date picker (the date picker is hidden)
finally, you re-click on the date picker
Result: you see the message 'Loading data' and a 'error on page' message appears in the bottom of your browser.
When you open the error you will see a similar error:
Webpage error details
User Agent: Mozilla/4.0 (compatible; MSIE 8.0; Windows NT 5.2; Trident/4.0; .NET CLR 1.1.4322; .NET CLR 2.0.50727; .NET CLR 3.0.04506.648; .NET CLR 3.5.21022; .NET CLR 3.0.4506.2152; .NET CLR 3.5.30729)

Timestamp: Thu, 18 Jun 2010 06:00:00 UTC

Message: Sys.ArgumentNullException: Value cannot be null.

Parameter name: panelsDeleting[0]

Line: 4723

Char: 21

Code: 0

URI: http://dynamicsax/ScriptResource.axd?d=5kX_0LN0u7mwWn790LXsbY7Ctv1Hcwgr-zXRCNUAi2zkRoHYg1N1jlEUavJPzNwiZYTQiJ3dlxfzGp0UsvQxuKxp2przuGOLv2smzEfpZ-A1&t=ffffffff9b6540a0
Solution:
In the web.config file you will probably find a similar line: <compilation batch="false" debug="true">. When you change the debug parameter to false (<compilation batch="false" debug="false">) and execute a iisreset, this issue is solved. You will typically find this issue only in DEV-environments because debug should be turned off in a live environment.
Unfortunately Microsoft won't create a Hotfix for Ax 2009 to solve this issue permanent. They ported the issue to Ax 6.0 and in the mean time we'll have to use the work-around.