December 15, 2011
No comment
I was looking for some new Ax books and came accross a book titled 'Social Media for Microsoft Dynamics Partners'  on Amazon.com
Authors: Jon Rivers, Mark Polino
Description: Social Media for Microsoft Dynamics Partners is a short, introductory book geared toward the specific business needs of Dynamics VAR's and ISV's. There are plenty of generic social media guides available, and Microsoft provides some guidance to partners, but we felt that Dynamics partners were missing an independent source of social media help designed for their business. So we wrote one.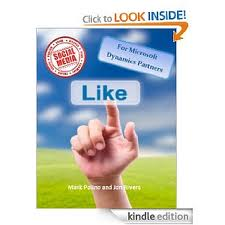 I'm not sure if I'll buy a copy, but maybe I'll ask a copy for christmas 🙂
February 21, 2010
No comment
Just like my colleague Klaas Deforche, I am now reading the 'Microsoft Dynamics Ax 2009 Development CookBook' published by 'Packt Publishing' that was published December 2009. It is a verry good book to look up a problem and find the correponding solution.
TOC:
Preface
Chapter 1: Processing Data
Chapter 2: Working with Forms
Chapter 3: Working with Data in Forms
Chapter 4: Building Lookups
Chapter 5: Processing Business Tasks
Chapter 6: Integration with Microsoft Office
Index
You can can by this book as a actual book or as a eBook. For more information / Buying / Code examples / Book preview of this book (Chapter 2) you can visit the PACKT-website.